About Atlantic Refrigeration and Air Conditioning, Inc., Proudly Serving Delaware and Maryland
Give us a call today: 302-856-9300
Atlantic Refrigeration and Air Conditioning, Inc. started with a vision to provide high-quality services for home and business owners in need. We aim to provide that same level of service with a large team of qualified professionals and high-tech systems to give customers what they need.
We've been serving Maryland & Delaware for over 30 years
We proudly operate with a 100% satisfaction guarantee
Our team always does what's right for our customers
We aim to be a resource for our community that can always help with the installation, repair, maintenance, and replacement of any HVAC or plumbing equipment. Let's get in touch and start discussing where your home can be improved!
Call Atlantic Refrigeration and Air Conditioning, Inc., the HVAC and plumbing experts of Maryland & Delaware!
Why Should You Choose Atlantic Refrigeration and Air Conditioning, Inc.?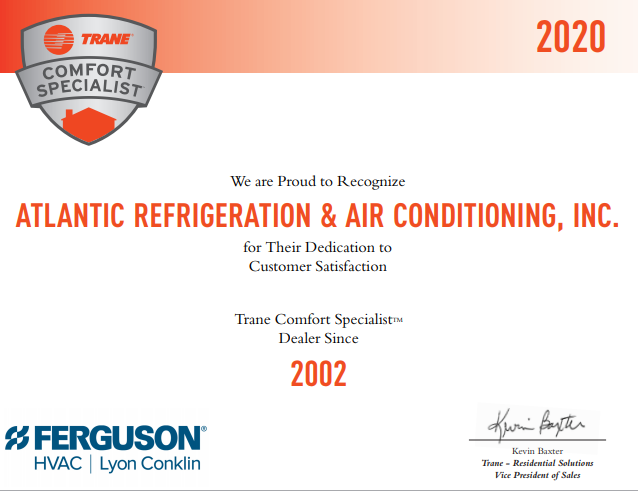 We understand that there are many different HVAC contractors you can call to handle your HVAC, IAQ, and refrigeration service needs. What sets us apart, you may wonder? Well, for starters we have a long list of certifications under our belts. The BBB has recognized us for the integrity that we bring to the work that we do. In order to keep our HVAC technicians informed of the latest innovations in the industry, we strongly encourage continuing education for our employees. We are proud to inform you that we are a Trane Comfort Specialist Dealer, a Mitsubishi Diamond Dealer, a Lowes certified contractor, and a NATE participating Contractor. We are also EnergyStar certified.
Ask About Our Maintenance Program
In order to best protect your comfort, it is highly advisable that you enroll in our maintenance service. That way, you can expect nothing shy of the best performance that your heating, air conditioning, and indoor air quality equipment has to offer. As a member of the program, there are many different benefits that you'll enjoy.
Members of the maintenance club can expect priority service, including 24 hour emergency service, 7 days a week. Our maintenance agreement entitles you to two annual inspections per year, as well as discounted parts and labor for all service and repairs. We will check refrigerant levels, oil all accessible motors, tighten and adjust belts (or replace as needed), clean condenser coils and fan blades, clean condensate drains, adjust cycling controls as needed, and inspect refrigerant tubing to ensure it is in no way compromised. Any maintenance services specific to the equipment that you use, such as water flow in geothermal systems, will also be meticulously completed. Keeping these systems in great working condition is a lot of work, and it is precisely the type of work that we excel at.
Contact the HVAC, IAQ, and Refrigeration Experts at Atlantic Refrigeration and Air Conditioning, Inc. Today
You can always count on the technicians at Atlantic Refrigeration and Air Conditioning, Inc. to do any job you ask of us properly. We are not exaggerating when we say that we are a 100% customer satisfaction service provider. Allow us to take care of your heating, air conditioning, indoor air quality, and refrigeration services. That way you will have no worries about the quality of workmanship you receive.
We Service all Makes and Models