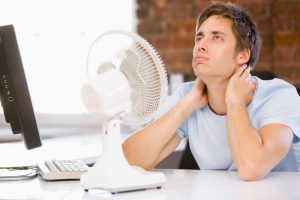 Things are starting to heat up here in Smyrna, DE! In no time, we'll be operating our air conditioners at full-tilt, and we'll need to ensure that they're working just as they should. How would you rate your home's ability to stay cool during the summer heat and humidity?
Read on to learn about 3 important ways to keep your home cool this summer, no matter the system, and no matter the size of your home.
Step 1: Get Professional HVAC Maintenance
Handy homeowners will probably want to take care of replacing the air filter themselves. This is a key component of any HVAC maintenance, and there's a good reason why. While you may hear "filter" and think of air quality, the filter in your HVAC system is designed to protect the mechanical components, not your lungs. Without a clean air filter, your AC will be slow to cool and cost you more than it should.
But professional maintenance is about so much more than just a clean air filter. It's also about checking airflow, refrigerant, and electrical connections, and alerting you to any serious problems on the horizon. Our maintenance program also includes numerous benefits!
Step 2: Upgrade Your Thermostat
During an HVAC maintenance service call, your thermostat will also be checked. But upgrading your thermostat entirely to a smart or wifi model has numerous benefits for the average household.
You'll be able to program a schedule of cooling based on who's home and when. Allowing the temperature to rise slightly during the day will ease the strain on your AC while also cutting down on your energy costs. As it begins to drop the temperature an hour before you get home from work, you won't know the difference. It'll feel the same as though it had been running at that temperature all day.
A smart or wifi thermostat can also be controlled via your smartphone. If you've ever forgotten to adjust your AC when going away for a week on vacation, your electricity bill thank you!
Step 3: Think about Light and Shade(s)
Where does the sun shine on your home? Is there anything protecting that side of the home from the sun's massive radiant energy? A quick and easy way to keep your home cool is to get smart about shades and curtains on your windows. Pulling these closed during the day can save you money over time. When you come home from work, crack them open and enjoy the sunshine. If it's a cool night, you might want to crack open the windows and turn on your ceiling fans.
Step 4: Know when to Repair and When to Replace
Fortunately, you don't have to make this decision yourself! But if your AC system is over 12 years old and it's starting to break down frequently, then it might be a good time to get a professional opinion.
We offer excellent HVAC services in Smyrna, DE and the surrounding areas. Let us know what we can do for you.