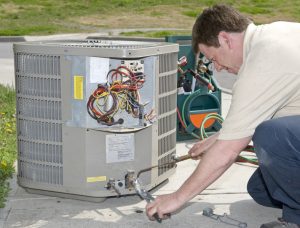 After last year's summer began to cool off, there was finally a day that was the very last. Without your realizing, there was one day of the season that became the last day that you used your air conditioner.
Since then, your air conditioner has had plenty of time to collect dust—and we don't just mean that figuratively.
If your AC has developed any issues over the winter, the best thing you can do is refrain from using it until you've had it tuned-up. Instead of waiting just before the summer returns, however, you can get that maintenance check out of the way anytime before summer.
Here are some reasons why that's a good idea:
A Clean System is an Efficient System
Have you ever noticed dust forming on your air vents? If there's dust forming there, just imagine how much could have formed inside the ducts and in the sensitive components of your air conditioner. If you fire up your AC for the first time in several months, some of that dust might even come out and leave a bit of an odor.
But it's not just a matter of smelling the dust. The U.S. Department of Energy has found that nearly 25 to 40 percent of the energy used by your AC is wasted due to excessive dust in the system. The dust that can build up on the air conditioning coils and other parts of the system can reduce the AC's cooling potential.
While air filters are put in place to help prevent this problem in the first place, dust manages to find its way inside the system through other entry points. Plus, if the filter gets too dirty for a prolonged period of time, it will be less effective in filtering out dust.
Prevent Debilitating AC Issues Now Before the AC Becomes a Necessity
There will come a time when you start running your air conditioner consistently. Soon after that, there will come days so hot that you'll be very thankful to have a fully-operational air conditioner. The worst possible thing that could happen at that time? The AC breaks down. Then, you're forced to wait in the heat until an air conditioning repair expert in Maryland arrives.
Of course, this occurrence is more likely during the hottest part of the season, especially if the unit hasn't received any maintenance since the year prior.
Some of the issues that can lead to an inconvenient breakdown include:
Refrigerant leaks
Frozen evaporator coil
Dirty condenser coil
Broken blower motor or fan
Electrical issues
Fortunately, all of these issues can be prevented with a quick tune-up.
Beat Procrastination
And finally, a great reason to get maintenance early is simply to get the one-up on any tendency to procrastinate. We find it's not so uncommon that many homeowners planned to get maintenance, but simply never got around to it until a problem appeared. By then, the damage is done, so it's too late to have prevented it with maintenance.
To schedule a maintenance tune-up for your air conditioner, contact Atlantic Refrigeration & Air Conditioning, Inc.