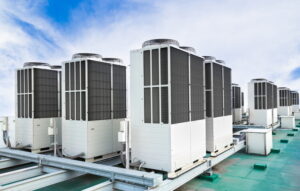 If you keep up with annual maintenance appointments for your home's air conditioner, you're in good shape. But we all know that commercial cooling systems rarely stop, and they're under more stress than a residential system. Does this increase the amount of maintenance they require?
When you get commercial air conditioning maintenance in Sussex County, DE, there are a few nuances you have to understand first. Let's talk about what you should be doing with your commercial AC maintenance.
Your System Use Plays a Role
How often does your system run? Depending on what type of commercial property you have, it may be on constantly, or your air conditioner may just come on as needed (such as in an office environment)
Nobody knows how active your commercial AC system is but you. If you know it runs constantly and you rarely hear it shut off, it's under a lot of mechanical stress and will require more frequent maintenance.
The System Age Should Be Taken Into Account
While you never want to skip maintenance, newer systems can take a lot more than a 8–10 year old commercial AC system can. Because of this, you may be able to get away with one annual maintenance check if your system is 3–5 years old.
However, it's important to take efficiency into account as well. Just because a system is new doesn't automatically mean it's the best option. There are multiple manufacturers and various options for commercial AC systems, so it should be noted that the efficiency rating is critical and to judge performance accordingly.
Don't Forget Environmental Changes
Weather records have been broken up and down the US, so it's no surprise that the environment plays a role in how much stress your air conditioner is under. Even for newer systems, this is a level of unexpected strain that's difficult to account for.
If your air conditioning system is new and it's holding up well, you should be okay, but the mechanical strain still occurs, effectively wearing your AC system down faster. For this reason, you can still benefit from twice-yearly maintenance.
So How Often Should You Get Commercial AC Maintenance?
As a general rule, you should plan for commercial maintenance twice a year. Even if you've recently had a new system installed and it has peak efficiency, you shouldn't neglect regular maintenance. Just because your system might be able to take it now doesn't mean it won't have a lasting impact on your unit's lifespan.
If you truly want to maintain your system's efficiency and not see large spikes in your commercial cooling costs, stick to a healthy maintenance schedule. We're here to help you get started with twice-yearly maintenance as soon as possible.
Twice-Yearly Maintenance Starts Now
Call us today, and we'll help you set up twice-yearly maintenance for your business' commercial AC system. To maintain peak efficiency, even under stressful environmental impact and long work days, you can count on us to keep it cool and comfortable in your commercial space.
Contact us today to schedule your commercial air conditioning maintenance as soon as possible