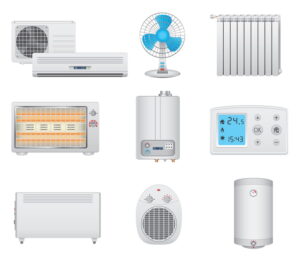 You're interested in installing new air conditioning in Middletown, DE for your home, but you wonder if you have better options than the conventional central AC you've used for many years. The answer is "yes," although determining if any of these alternatives is the right one for your home is something you'll want to consult HVAC experts on.
Below we've listed the three most common alternatives to the typical central AC system, i.e. a split system with an outdoor condenser and indoor evaporator and blower connected to ductwork. Each alternative has benefits and drawbacks, and our technicians can help you navigate to the best option.
I. The Heat Pump
This is a popular alternative to a standard AC because it doesn't depart significantly in design from a split system air conditioner. A heat pump uses ductwork to distribute conditioned air and has both indoor and outdoor components. The difference is that a heat pump can change the direction it works so that it can both cool and heat.
Heat pumps are more expensive than a standalone air conditioner, but are a cost-effective choice if you decide to also replace an existing furnace. Heat pumps can save you money in heating mode compared to an electricity-guzzling electric furnace.
II. The Ductless Mini Split System
Want to skip using ducts entirely? You have the option without needing to rely on ugly and inefficient window ACs. Ductless mini split heat pumps have a standard outdoor unit like central ACs and heat pumps, but have multiple small indoor units that are placed on the walls inside rooms. These indoor blowers send conditioned air straight into the living spaces without ducts. Since they're also heat pumps, they work as heating and cooling systems.
Ductless mini splits can help reduce energy use and they work well in homes that don't have space for ductwork or new home construction. We install top Mitsubishi ductless systems for our clients.
III. The Geothermal Heat Pump
This is the most radical change for air conditioning a house, but it can often be the best one. People associate geothermal systems with heating, but a geothermal heat pump—like other heat pumps—can provide cooling as well. A geothermal system uses standard ductwork and its inside components are similar to a standard heat pump. But a geothermal system doesn't use an outdoor cabinet where it absorbs or releases heat from the air. Instead, it uses ground loops buried at least six feet below the frost line to absorb or release heat from the earth. This allows for extremely high energy efficiency because the temperature of the ground at this depth remains steady regardless of weather conditions above ground.
Geothermal heat pumps are extensive installations with a higher price tag than standard heat pumps and ductless systems. However, their high efficiency allows them to pay back their installation costs after several years, and they have incredibly long service lives (the loops can last for more than 50 years).
At Atlantic Refrigeration & Air Conditioning, Inc. "We take pride in your comfort!" Talk to us today to learn more about your AC installation options.