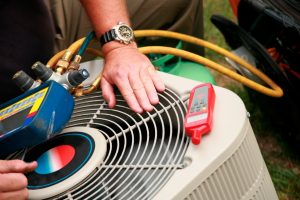 Summer's here, and you'll be running your AC more than ever. This also means your monthly electric bill is about to go up too. This doesn't mean, however, you must resign yourself to paying any more than necessary. Even if your AC system is running fine, you can still reduce your monthly bill through a regular maintenance schedule. Sounds good? We'll go through the hows and whys below to explain how investing a little in your AC system now can save you more money over the long haul.
3 Ways AC Maintenance Saves You Money
For most homeowners, if the AC produces cool air when it comes on there's nothing more to consider. Then again, who doesn't want to save money without having to, for example, set the thermostat higher than normal? Remember, while AC maintenance saves you money, you'll want to rely on your local AC experts to maximize the benefits below.
1. Energy Efficiency
Regular maintenance will allow your AC system to run more efficiently and produce cool air using less energy. This is one reason cooling and evaporator coils need to be thoroughly cleaned – especially at the beginning of the summer – to remove accumulated dirt and mold. Dirty air filters will also make your system work harder to produce the same amount of cold air.
This also extends to your ductwork. Even under the best of circumstances, up to 25% of cooling power is lost as air travels from a central unit via ducts to different rooms in your house. This problem is compounded by the presence of any leaks or holes in ductwork.
2. Fewer Costly Repairs
Most problems with your AC begin well before you notice them. For example, it may not seem like a big deal if your AC is producing a little excess water, but this can be a symptom of the refrigerant level being low. Or, your AC may make odd noises off and on which can indicate fan motors or bearings are wearing out. While these can be simple fixes, not dealing with them can lead to more costly problems.
Other preventive maintenance professionals can perform includes adjusting and tightening belts, checking oil levels, and cleaning and adjusting fans. A little work up front can save you big money later if it keeps you from having to spend $1,500 or more on a new compressor.
3. Longer AC Lifespan
No AC system lasts forever ­– 12-15 years is typical – but regular maintenance can add up to five years to its life. As the largest mechanical system in your home, the cost of a new unit will easily be thousands of dollars, and the same preventive maintenance resulting in fewer repairs will also keep you from purchasing a new system any more often than necessary.
Your AC Maintenance Schedule
AC maintenance saves you money, but you also want to be thoughtful about choosing a regularly scheduled maintenance program. Our trained technicians have the skills and equipment necessary to keep your system running well today and ensure it continues to do so in the future.
Contact Atlantic Refrigeration & Air Conditioning, Inc. for AC maintenance in Georgetown, DE, today!