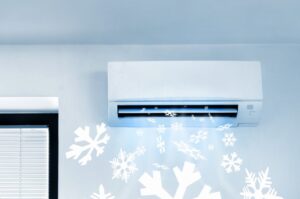 When customers are looking for new HVAC installations, they'll often come across the option to have a ductless mini split installed. These comfort systems, which provide both heating and cooling to large areas without having to use pre-existing ducts, aren't as familiar in the US as conventional central HVAC systems. People might recall seeing ductless mini split units hanging on walls and wondering exactly how they worked, but wouldn't have thought about the technology in their homes. 
Because of this unfamiliarity, it's easy to think that ductless mini split heat pumps are new technology that only recently hit the market. Although ductless mini splits aren't as old as central air conditioners, the technology has been around for many decades. In fact, ductless heating and cooling was invented in 1959, which makes it not much older than the invention of the window AC unit.
The Origin of Ductless Mini Splits
Like many inventions, ductless mini splits arose from necessity. In this case, the necessity was in Japan.
In the post-War years, US manufacturers were eager to sell air conditioning systems in Japan. Air conditioners had started to enter homes in the US along with the housing boom—but these were homes built specifically for central ACs. Japan is densely populated, making space a premium for homes and apartments. Japanese living spaces didn't have the space available for ductwork, and the thin walls also made loud air conditioning units a problem.
But the Japanese were eager to have the benefits of air conditioning, especially with increasing urbanization. The top manufacturers looked for a solution … and in 1959 Mitsubishi invented a full redesign of standard air conditioning, the ductless mini split. These systems required no ductwork, offered zone heating and cooling, and used smaller motors in the wall-mounted units that reduced noise. Their energy efficiency was another major benefit, helpful considering the high energy prices in Japan at the time. 
Expanding Across the Globe
The numerous advantages of ductless mini splits made them popular in other parts of the world. In Europe, with its many historical buildings, ductless heating and cooling was a revelation. There was no longer any need to ruin classic architecture or add bulky, ugly ducts to vintage homes.
However, the ductless mini split didn't make it to the US because state-side distributors turned them down. Americans were happy with central cooling and relied on window ACs for places without space for ducts, like apartments where a single window unit could take care of cooling needs
Coming to America
But the benefits of ductless mini splits were too great to keep them out of the US market forever. Mitsubishi found ways to market ductless systems to US businesses, where they started to become popular in restaurants and bars. It wasn't long before ductless mini splits were offered as a method to cool older homes and then as an option for new home construction. Ductless systems continue to grow in popularity here each year. 
We're proud to offer the best in ductless technology—from the original manufacturer, Mitsubishi! We install Mitsubishi ductless systems in Delaware and throughout our service area.
At Atlantic Refrigeration & Air Conditioning, Inc., "We Take Pride in Your Comfort!" Call us today to learn more about going ductless.