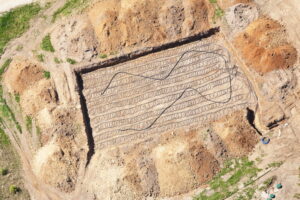 When summer ends, people start to think about their home comfort systems—and not just heater. Yes, fall is the time to schedule heating maintenance to ensure the heater is ready to handle the coming winter temperatures. But fall is also a time to consider making changes to the air conditioning system if it's coming to the end of its service life.
Last week we offered a recommendation for an HVAC system upgrade that handles your heating and cooling needs: a heat pump installation. This isn't the only way you can make a double-upgrade for your heating and air conditioning in Delaware, however. This may be the fall that you finally decide to make your dreams of a geothermal heating and cooling system come true.
"But I didn't have dreams of … wait a minute, that sounds like a good idea!"
We're glad you think so. You probably weren't thinking immediately of going with a geothermal comfort system because it seems like such a big change. It is a big change, but mostly a big change for the better. When you work with our experienced technicians for a geothermal system installation, we'll make the process as easy for you as possible. We've helped many homes enjoy geothermal-based comfort and we know first-hand how beneficial it can be.
"But isn't a geothermal system just to heat a home?"
This is a common misconception, but we understand where it comes from. After all, thermal is right there in the name, and that makes people think of heating. Because geothermal systems operate by accessing the steady heat located in the earth, it's easy to mistake this for meaning geothermal is only good for providing warmth.
But geothermal systems are types of heat pumps, and if you know anything about heat pumps (say, by reading our last post) you know that they work as both heating and cooling systems. It's the same for a geothermal heat pump. The underground coils of a geothermal heat pump allow the system to both draw on the stable heat located six to ten feet below the frost line during winter and to use it as a heat sink during the summer. The temperature in the ground hovers around 45°F during the year: that's enough to provide plenty of thermal energy for winter comfort, but also cool enough to make it easy for a heat pump to deposit thermal energy from the house into the ground when the topside temperatures are extremely high.
So no matter if it's boiling hot or freezing cold outside, a geothermal heat pump has an advantage over a standard air-source heat pump.
"Is geothermal even possible for my home?"
A geothermal installation requires burying loops that carry a water and refrigerant mix approximately ten feet or more underground. This takes up space, but our geothermal experts can find ways to maximize your property for these loops. We can use different loop configurations to make it easier to fit in a geothermal system.
A geothermal installation won't work for all houses. You can rely on our team to help you find the comfort solution that works for your home.
Atlantic Refrigeration & Air Conditioning, Inc. offers geothermal heat pump installation for homes in Delaware and the Maryland Eastern Shore. Request an estimate today.