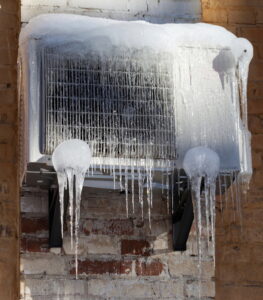 During spring, we recommend all of our customers schedule a maintenance inspection and tune-up for their air conditioning system. This prepares the AC to handle the rigors of another summer.
But you won't use your air conditioning system during the winter, so there isn't anything you need to do to prepare it for the season … or so you might think.
Although you don't have to schedule maintenance a second time for your AC (unless it's a heat pump), there are a few steps you can take to ensure the air conditioning system is protected and in good shape during this period of inactivity. This will help make life easier when spring comes around.
Below are steps to take to help your AC through the winter hibernation.
Have any lingering repairs done
Is there any noticeable malfunction with the air conditioner? Please don't ignore one just because the AC is about to shut off. Letting a problem linger over the winter can lead to bigger problems later. For example, a refrigerant leak will continue to drain refrigerant through the season. Call an HVAC contractor in Lewes, DE to take care of any repairs as soon as you know about them.
Fully shut off the AC system
When the cold weather settles in for good, turn off the air conditioner. We don't mean to simply stop using it by adjusting the thermostat to warmer temperatures. The air conditioner has its own dedicated power switch, which is located in a box near its outside cabinet. Flip open the box and set the switch to "off." This will stop the AC from accidentally turning on during a brief rise in temperature, which can draw water into the unit and damage it.
Clean off the outdoor condenser
Take off as much dirt and debris as possible from the condenser cabinet. Use a hose on low pressure (never blast water into the grills of the cabinet) to wash off the exterior. Pick up leaves and other debris from around the cabinet as well.
Cover the condenser
After you have cleaned off the condenser in the previous step, give it time to dry. Then place a waterproof covering over the cabinet and secure it. This is the best way to prevent winter weather from damaging the cabinet interior. You can purchase coverings designed for air conditioners from hardware and home improvement stores, or you can cut a waterproof tarp yourself. Use bungee cords or rope to tie down the tarp or covering so winter winds won't rip it away.
And with that, your air conditioner will be in great shape for its winter vacation and you can focus on your home heating. The AC will be in better shape to start the next warm season and will enjoy a longer service life as well.
Reminder: While you're thinking about shutting down the AC, remember to schedule service to maintain your heating system. This is the most important task you can do to protect your winter comfort.
At Atlantic Refrigeration & Air Conditioning, Inc. "We Take Pride in Your Comfort." Schedule any last-minute AC services you need.