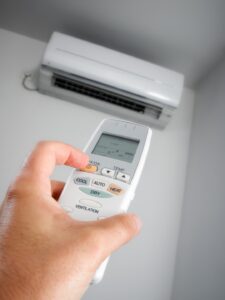 Ductless air conditioning in Sussex County, DE sounds like it would be great in your home, but it's so different from central AC that it can be daunting to even imagine what it might be like. Let's walk you through what it would be like to live with ductless air conditioning, and see if it's a good fit for your home and your family.
Custom Comfort
The main selling point of ductless air conditioning is its efficiency, but the real charm is being able to control different temperatures in separate rooms of your home. If you like your living room to be toasty, but you want your bedroom to feel like a walk-in fridge, you can set different ductless units to different temperatures and make it happen.
They're Also Heaters
Ductless units aren't just air conditioners. They're also heaters. You don't need a separate heating system anymore, so switching to ductless can help you save money there as well. You can experience the same energy efficiency with heating as you do with air conditioning, helping you save money every time you heat your house.
Quick and Easy Installation
As the name suggests, there's no ductwork to install, which is one of the most lengthy parts of any central AC installation. Even if you have pre existing ductwork and simply get an old AC replaced, your technician will need to inspect your ductwork to make sure it isn't damaged. In short, ductwork really complicates things. Getting ductless units installed is a relatively quick process.
Quiet Operation
Have you ever heard your AC cabinet fan fire up in the dead of night when the AC kicks in? Many central AC units are fairly loud when they turn on, but ductless units make about as much noise or less than a standard floor fan. If you enjoy having an ice-cold room when you go to sleep but don't want to deal with all the noise that central brings, ductless is the right choice for you.
You Can Save Money From Tax Rebates
Thanks to the Inflation Reduction Act that went into effect in January 2023, you can save a lot of money with instant rebates at the point of purchase when you upgrade to energy-efficient systems  You already know you'll save money every day by using a more energy efficient system, but now you don't have to worry about fronting the entire installation cost, either.
Easier to Control
Wouldn't it be great if you could just carry your thermostat around with you and change the temperature at your will? Ductless units use remote controls, so you can do exactly that. Keep the remote by the couch and turn the temperature up when it gets too cold at night—you have control in the palm of your hand.
Ductless Might be the Way to Go
Central AC has its perks, but you can't deny ductless and all the benefits it brings to the table. If you're interested in getting started with ductless air conditioning, give us a call and we'll walk you through how to make the switch, and what the installation process looks like.
Contact us today to schedule your ductless air conditioning installation as soon as possible.