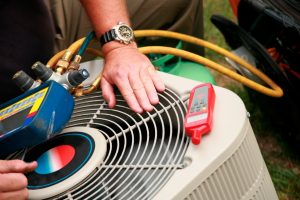 The modern residential air conditioning system is a complex piece of refrigeration equipment. Any type of complex machinery is in danger of breaking down at some point, no matter how well it was built or how well it is cared for.
Does hearing this make you worried about your AC's performance this summer? If you've kept up with annual maintenance for the system, you probably won't run into any problems—but there's never a 100% guarantee the air conditioner won't shut down on you during an extremely hot day.
When you have an AC that won't start, you may need an HVAC company in Middletown, DE to repair it. In some cases, the problem is simple and you can get the AC running yourself. We're going to look at some of the reasons your air conditioning system may shut down, and which of them will require calling pros to fix the AC.
Tripped circuit breaker
The motors in an air conditioner create a large draw on electrical power. This may lead to overloading a circuit and causing a breaker to trip. When your AC refuses to come on, we recommend you check the circuit breaker panel to see if any breakers have tripped. Reset them and turn the AC on again. If it still trips a circuit breaker, you'll need to call professionals to look into a possible electrical problem.
Burnt-out motors
Motors power the fans and the compressor of an air conditioner. If any of these motors overheats and burns out, the AC won't function. You may notice an acrid odor from the vents or the outside cabinet when a motor burns out; this is a sign to call for professionals since you can't replace the motor on your own.
Overflowing condensate drain
The water moisture that collects along the indoor evaporator coil drips down into a shallow condensate pan, where it is pumped out through a drain. If the drain becomes clogged up or the pump breaks, the water will rapidly overflow from the pan. The AC has a limit switch that will trip in this case and shut the system off. In most cases, you'll need a repair technician to unclog the drain or repair the pump motor.
Thermostat problems
Sometimes, the trouble with an AC that won't work is mistaken settings on the thermostat, such as putting the system in "fan only" mode rather than "cooling." There could also be other thermostat troubles, such as a miscalibration (the unit reads temperatures incorrectly) or a loss of connection to the AC. In these latter cases, you'll need HVAC technicians to fix the problem.
Failed compressor
When the compressor of an air conditioner dies, it can't provide any cooling. The compressor must be replaced. If the compressor is no longer under warranty, it's usually better to replace the whole condenser and indoor evaporator coil, or even the entire HVAC system if you have an old heater as well.
No matter the service you need to have your cooling restored, count on our team. We're always here for you, 24/7.
Trust to Atlantic Refrigeration & Air Conditioning, Inc. to solve your AC troubles. "Over 25 Years of Quality Service!"