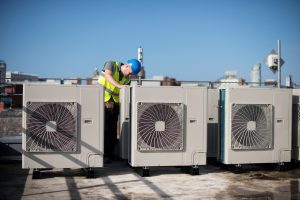 We're still in the throes of winter, and new building projects usually don't start work until the weather has improved. But planning for new construction projects starts right now, and if you're planning on putting one up, you need a quality HVAC contractor on your side from the first day. Every building needs a quality heating and air conditioning systems, no matter what its purpose is or how large it will be. Our Cold winters and hot summer demand it. And the sooner you can get an experienced HVAC contractor service on your team, the better.
Answering the Key Questions Early
Every building is unique, and the needs of each one can be very different. A two-bedroom home may have wildly different heating and air conditioning demands than a commercial building of the same space, for instance. Homes have different levels of insulation, different heating needs, and different locations that demand a specific approach to their HVAC system.
Businesses have even more concerns on that front. In many cases, they need to keep products and other key business components at set temperatures, even if that's just computer servers they need to keep from overheating. A comfortable environment is also necessary for helping employees work at their best and for attracting customers. And commercial buildings may change occupants regularly, with new residents having much different heating and cooling needs than the previous occupants.
All of that requires the experience and knowledge that comes with reliable HVAC contractors. With an expert on your team, you can make sure that the new system is the right one for the space, and can accommodate any unexpected needs that may come up throughout the building's life. That includes things such as power levels, efficiency, placement, and the presence of things like modular units to make easy changes once the building is complete.
Contractors Can Handle the Unexpected Too
Once the plans have been made, construction will begin, and there too a good HVAC contractor can be invaluable. Problems arise in every operation, and no one can tell when a challenge of a serious issue is going to bring the project to a halt. A good HVAC contractor can work with other members of your team to ensure that those issues don't disrupt the schedule. They can solve potential conflicts with other parts of the team, work through unexpected problems, and be onsite to provide advice and insight on all aspects of the project.
The results of that attention can be felt throughout the life of the building. The HVAC system will perform more effectively and lower the monthly costs of cooling and heating if it's installed with care. It will likely last longer too and provide fewer problems throughout its life. It all starts with the right team in your corner and the expertise they bring to help your construction project thrive.
For top-notch HVAC contractor service throughout Maryland and Delaware, the friendly pros at Atlantic Refrigeration & Air Conditioning, Inc. are ready to go. Call us today to set up a consultation and discuss your options!