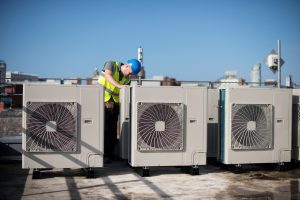 If you're looking to install a new HVAC system in your home or business, the smart move is to contract a dedicated HVAC contractor service to perform the operation the right way. Countless problems with heating and cooling systems – both residential and commercial – can be prevented simply by ensuring that the right team installs your system the right way. We're in the throes of winter right now and big projects like HVAC installation will likely need to wait until spring. But now is the time to start planning such installations, and with a strong contractor service in your corner, you can make sure your new system works exactly as intended.
Why Are Dedicated Contractors Necessary?
There's more to a new heating and air conditioning than simply sizing it and putting it in. Makes and models differ wildly, and the right unit for one structure may be all wrong for another. Calculating the proper system for the building in question starts with simple measurements like square footage, but it goes well beyond that. The technician needs to factor in things like the presence of insulation and the impact of large windows with a lot of sunlight on heat levels inside the structure. In the case of multi-story structures, the issue becomes more complicated, since hot air rises and higher floors may thus be much warmer than lower floors sometimes. With businesses, you need to factor in specific heating and cooling needs for the tenants, as well as the possibility that new tenants with very different needs may take over the space somewhere down the road.
All of this needs to be factored in before work begins on the installation: with a close examination of the building (or construction plans) and an educated recommendation of the right system for the space. Only once that is complete can you be assured of getting the right system. And for that, you need a dedicated HVAC contractor with the skills, experienced and licensing to operate efficiently.
You Can See the Difference
The difference in such care and preparation becomes apparent when you compare units installed by a proper service and those installed by less qualified personnel. In addition to copious preparation, trained technicians can spot the signs of trouble during installation and make proper course corrections to ensure that the unexpected doesn't create any difficulty. They'll use the right kinds of bolts and screws during installation, ensuring that the new system doesn't rattle in its housing or create other drains on its efficiency. They'll take care to see that every step is followed as it should, and won't rest until the new system is ready to go.
As a result, the HVAC system will function at its highest efficiency: keeping monthly costs down and lowering the impact of wear and tear on it. That ensures maximum value for the money and lets you make the most of your very important investment.
For quality HVAC installation throughout Maryland, call the friendly pros at Atlantic Refrigeration & Air Conditioning, Inc. today!