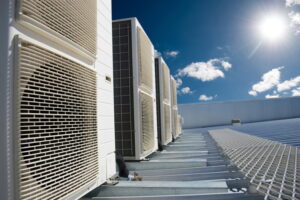 Now that it's officially fall, you'll start to think about preparing your business to handle the change in the weather and how to help it face the rigors of another harsh winter. One of the first steps we recommend you take is to call us to schedule the most important service for commercial HVAC in Sussex County, DE that we offer: regular maintenance.
Maintenance for HVAC equipment is important for both homes and businesses. But much more rides on the HVAC system for a commercial building than for a home. Your HVAC system does more than provide a decent level of comfort for people inside. It also helps protect your facility and the equipment inside. Losing any time due to failed HVAC equipment—especially during the winter months—translates into significant loss of revenue. You simply can't afford to have HVAC equipment that isn't performing at peak levels throughout any season of extreme weather.
The Major Benefits of Commercial Maintenance
We'll talk mostly about the heating systems in your commercial facility in this post, because this is the equipment you'll need maintained at this time of year. But everything here also applies to cooling equipment in your facility as well.
Reduced energy costs: Maintenance is an important investment in the energy efficiency of your heating equipment. An enormous amount of energy goes to powering your heating systems during the long winters, so even a 5% loss in efficiency from your HVAC equipment can mean paying much steeper bills. Maintenance will help your equipment keep 95% of its energy efficiency for most of its service life, rather than losing 5% per year.
Prevent most repair issues: Needing to repair heating equipment often means downtime for your business, especially for retail facilities that need customers to feel comfortable. Regular professional maintenance stops the majority of repair problems before they start, saving you both on repair costs and the steep price of lost revenue from downtime.
Extend equipment life: You don't want to replace any of your HVAC equipment earlier than you need to—but lack of maintenance can cause heating systems to fail years early. Our maintenance program will ensure your heating systems, whether boilers, furnaces, or rooftop units, work in peak condition for as long as possible.
Gain knowledge of your equipment: Regular check-ins with your HVAC equipment from experts like ours will help you become more familiar with this equipment. You'll have a better understanding of the services you need as well when to call us for help. Our technicians will also gain specialized knowledge of your equipment so they'll always know what work you need.
Call Us to Arrange for Commercial HVAC Maintenance
We offer high-quality commercial HVAC service, and this includes working with commercial boilers. Contact us to learn more details about how we can set up regular maintenance for your facility.
In addition to HVAC maintenance, we're also pros when it comes to commercial refrigeration. If you have refrigeration equipment that needs maintenance, such as ice machines and walk-in freezers, you can arrange for the services you need with us.
At Atlantic Refrigeration & Air Conditioning, Inc., "We Take Pride in Your Comfort!" Contact us today to learn more about our commercial maintenance services.