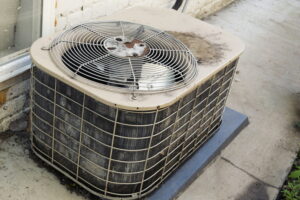 You may have heard this bit of advice from someone, possibly an "HVAC contractor" with less than reliable credentials: "Your AC is 10 years old, so it's time to get a new one."
The truth is that air conditioning systems don't have an absolute "replace by" date, and most air conditioners that have regular maintenance will last past 10 years without problem.
But this does lead to another question: when should an air conditioning system be replaced? It's a good question to consider during the fall, since it's a convenient time to arrange for a replacement system when you're not using either your AC or your heating system.
The average service life of a central air conditioning system
A central AC will last between 10 to 15 years. Lack of maintenance can cause an air conditioner to fail early, while diligent maintenance can sometimes push an AC over 15 years to 20 years. The 10-year estimate is therefore targeting the low end of the service life of an air conditioner.
Our best advice regarding the age of your air conditioner is to start to pay close attention to any issues or odd behavior from it once it's over 12 years. This is the point where air conditioners will start to show their age. Some of the signs we recommend you watch for:
Poorer cooling performance, such as uneven cooling around the house or a difficult time finding a good thermostat setting for comfort
Louder operation
A rise in indoor humidity
Increasing utility bills in the summer that you can't account for
Frequent need for AC repairs
Any repair that would cost more than half the price of a new air conditioner
Noticing one of these signs on an AC that's older than 12 years isn't an automatic reason to replace it. (Well, except for the last one.) But there are reasons to call for our experts to examine the air conditioner and see if it can be repaired or if it's better to invest in a new system.
Beyond 15 years?
Although we mentioned a central AC that can get to 20 years, we don't recommend trying to push an air conditioner much past 15. This is the point where even the most diligent maintenance will not hold back the wear and tear of age. If you have doubts about your older air conditioner, we'll be glad to give you an honest opinion about the best next steps.
If you are thinking of a replacement, may we suggest…
…that you look into Mitsubishi ductless systems in Sussex County, DE. Ductless systems are becoming increasingly popular in the US after conquering Japan and most of Europe. Ductless systems are types of heat pumps, so they're able to offer you both heating and cooling around the year. (So if you've got an old electric furnace that's also ready for a replacement, this is an even better option.) Ductless systems have more flexibility than standard ducted systems and they consume less energy to run. They also offer zone heating and cooling. To find out more about our Mitsubishi ductless systems, contact us today.
At Atlantic Refrigeration & Air Conditioning, Inc., "We Take Pride in Your Comfort!" Reach out to us for replacement options for your air conditioning system.