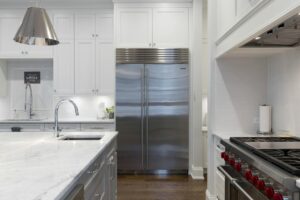 When your refrigerator goes down, it's always unexpected and inconvenient—it's one of those appliances you just don't think about on a day-to-day basis. When it finally runs into a big problem, you may wonder if there's anything you can do to prevent this from happening again. Most of the time, yes—you can look out for these signs your refrigerator is dying Sussex County, DE before it happens.
1. Way Too Much Condensation
Your fridge has condensation in it, sure, but there's a point where enough is enough. If you notice that all your containers in the fridge are wet, or you can spot more water droplets on the shelves than before, it's a sign that your fridge is having a hard time maintaining the right temperature. It's also a sign your food can go bad rather quickly, so we'd get those groceries in a bucket of ice while you wait for us to show up.
2. Temperatures Keep Changing
There's a safe temperature range that your refrigerator can fluctuate in, but it shouldn't fluctuate all that often. If you know you're not opening the fridge more than usual, but the temperatures keep bouncing around, that's a sign that something's not right. Your fridge is struggling to keep up normal operation, and a breakdown might be right around the corner.
3. Buzzing or Other Odd Noises
You know what your fridge sounds like on a good day, because it's usually pretty quiet. Near-silent. When you start noticing noises that your refrigerator makes, it shows that there's already a problem. This is usually a buzzing noise that you can hear even louder after opening the door, but it can also be a collection of other odd noises. If you hear anything out of the ordinary coming from your fridge, it's time to get it checked out.
4. Your Bill Saw a Spike
You ran your business the same this month as you did last month, but there's a huge spike in energy cost. If you can't attribute it to a busy season, that means an appliance is drawing too much power. While it could be one or more refrigerators, it could also be your air conditioner system, heater, or myriad of other large appliances.
5. Water Leaks
Your refrigerator isn't supposed to leak water, at least not outside of the fridge. Sometimes condensation can pool in the bottom of the fridge beneath the vegetable drawer, but it's when there's enough water that it leaks outside of your fridge and onto the floor that there's a big issue.
We're on the Job
Now that you know what to look for, it'll make it easier to avoid this from happening in the future. But for now, you've got a broken fridge on your hands, and we have a clear spot in our schedule. Sounds like a good match, right? Call us today so we can help you get your day back on track and keep the milk from spoiling.
Contact us today to schedule your refrigerator repair as soon as possible.