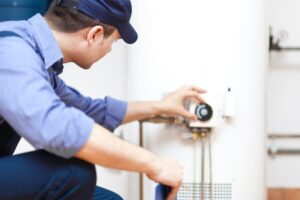 If you've never had a water heater installed before, as in you bought your home with one already in it and didn't have to replace it until now, the task can seem daunting. While this is an involved process, as it concerns one of the most important machines in your house, it's not as scary as you might think. This is how long water heater installation in Sussex County, DE really takes.
First, It Depends on the Type of Water Heater
There are different types of water heaters with completely different installation processes. This is important to know before you put any expectations on how long it may take. The three main types, and ones that we offer, are:
Tank Water heaters: These are the most common types of water heaters in the United States. A big tank with a specific capacity holds onto hot water for you and supplies it as needed.
Tankless Water Heater: Water travels through your pipes, which travel through this relatively small machine. The pipes are heated to allow for on-demand hot water without succumbing to the capacity of your water heater tank.
Heat Pump Water Heaters: Similar to how heat pumps work for heating your home, a heat pump water pump takes heat from the surrounding area and uses it to heat your water. These can save you money and energy.
These processes are different, so the installation times are different. It's difficult to say exactly how long each one takes because it depends on your specific setup, obstacles unique to your home, and other conditions that need to be inspected before you can get a realistic time estimate from your technician.
Removing the Old Unit Takes Time
On installation day, your water supply is shut down so that your old water heater can be removed. This isn't as simple as disconnecting a few pipes and voila. It's an involved process, and disconnection needs to be handled properly so as to not cause problems for the new unit going in its place.
This could take a while depending on other requirements, such as replacing some pipes that may have been found to be corroded or damaged during a pre-installation appointment.
Permits and Regulations Could Affect Your Timeframe
Depending on where you live, your city may require permits for the work required. While this is highly uncommon for a simple hot water heater replacement, it may come into play if your plumbers need to replace old pipes that lead to the water heater.
Most Simple Installations Can Be Done in a Day
Replacing an old water heater with a new unit, provided that all the hookups and pipes are good, can be done in a single day (most of the time). In an ideal setting, you're looking at four to eight hours in total. But as we've seen with all of our combined experience and years in the business, few installations fall under the category of ideal.
Installation Times Vary
There are so many factors that go into water heater installation that we can't tell you an exact amount through a single blog post. What we can do is tell you that our technicians can inspect the old unit, pipes, hookups, and give you a more accurate time estimate so you can plan your day around it. It all starts with a phone call.
Contact us today to schedule your water heater installation a soon as possible.