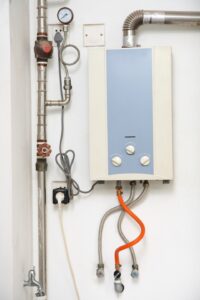 Newer construction often comes with tankless water heaters installed rather than tank water heaters, but how come? We know they're great, but are they really that great or what?
While there's no such thing as perfect, especially when it comes to home plumbing, tankless water heaters are a step up over tank heaters. They're seen as the future of home water heating for a reason.
It comes down to this: if you need tankless water heater installation, you should know what the benefits are and be fully aware of all the setbacks. It's not all sunshine and rainbows, but we're willing to bet that you'll also see the benefits of tankless water heaters.
Tankless Water Heater Pros
If you're going to install a tankless water heater, it should be for these reasons. They're objective benefits that you can compare against your current water heater to see the difference.
Lasts Longer Than Tank Heaters: Storage tank units don't have the same shelf life/longevity as tankless water heaters. These can last for 30+ years with proper maintenance and repairs.
Reliable, Consistent Hot Water: Once it heats up, your tankless water heater just keeps going until you're done. Yes, that means you can stay in the shower for 30 minutes.
Environmentally Conscious Choice: Less water waste is better for everyone. The environment can't say thank you, but just know it's happy with your choice.
Saves You Energy: When you get your energy bill each month and it shows you how much you used, it can be shocking. Tankless water heaters reduce your energy use.
Saves Money: These lead to less water usage, which means you spend less money, plain and simple. You're not only saving on your water bill, but also your energy bills.
Tankless Water Heater Cons
Just because tankless water heaters are an improvement over tank units doesn't mean they're free from flaws.
Takes a While to Heat Up: Tank water heaters keep hot water constantly available, but tankless have to heat it up as you use it. That means the water heater itself has to fire up. This can take ten seconds, or it can take two minutes, but it is a bit of a bummer.
There Are Limitations: If you run the sink, shower, and dishwasher at the same time, you can run into a capacity problem. The one good thing about storage tanks over tankless is their huge immediate availability.
Sticker Shock: Tankless water heaters aren't cheap. Remember that they last for twice as long as a tank water heater, so instead of just comparing the cost between them, match the price up against two tank water heaters. Still, it's a bit of an upfront investment.
It's Time to Make the Switch
You can't deny the benefits of tankless water heaters. It's time to make the switch and stop relying on that old tank heater.
Beyond lasting up to twice as long as a tank water heater, endlessly warm showers that never go cold is a pretty big bonus, right? Let's get you set up with a tankless water heater as soon as possible.
Contact Atlantic Refrigeration & Air Conditioning, Inc. today to schedule your tankless water heating installation as soon as possible.