Coronavirus Update
Give us a call today: 302-856-9300
Dear Valued Customers,
During this very unusual time, we have put a plan in place to do our part to help keep our community safe. First and foremost, we are going to stay CALM, PATIENT, KIND, and POSITIVE! Below are measures that we have implemented to help protect our team and our customers during this time:
Wash our hands frequently and thoroughly with soap and water
Cover our nose and mouth when sneezing or coughing
Wash our uniforms every day including cleaning our belts
Stay home if we are feeling sick
Offer a warm smile and friendly greeting instead of a handshake
Wear shoe covers and latex gloves in homes and businesses
Wipe down surfaces and equipment touched in a client's home with disinfectant wipes
Wipe down door handles, steering wheels, gear shift lever every day
Wipe down pens, clipboards, tablets, cell phones, and anything else that passes between techs and clients.
All employees have masks and

will be wearing a mask during customer visits to protect both the employee's and our customers
We are complying with all recommendations and guidelines from state agencies and will be proactive in our efforts to see that our team members and clients are protected.
As the situation unfolds, we will take each day one at a time and ensure we are being smart, supportive, and helping all those we can in our community.
Indoor Air Quality
There is much to consider regarding this outbreak and its possible transmission in your home. While there are various and effective indoor air quality measures available to help protect your safety, including duct sanitization, ultraviolet (UV) germicidal light treatment, and HEPA air filters, they alone cannot protect from all forms of COVID-19 transmission. It is important to follow all official guidelines for preventing the spread of this virus.
Air Purificaton Options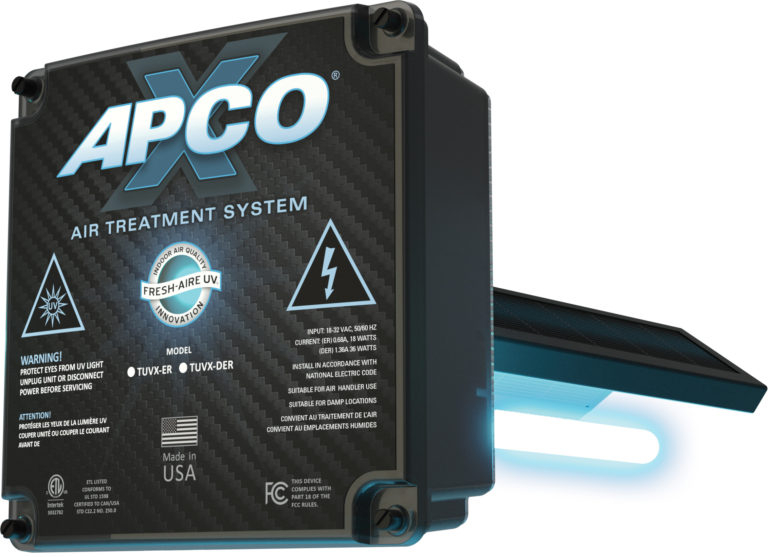 We offer various indoor air quality products such as the APCO Fresh-Aire UV®, a whole home in-duct HVAC unit. The Fresh-Aire UV® features EverCarbon™ cells with proprietary antimicrobial nanotechnology, which gives faster kill rates for microbial contaminants in the air as well as on surfaces. To learn more about about the product, and to read the current bulletin regarding COVID-19 please select from the following options:
The APCO-X™ UV Light offers the indoor air quality protection your family needs!
Find out more about the effectiveness of the APCO-X™ UV at combating viruses—including the novel coronavirus—in your house.
We Service all Makes and Models