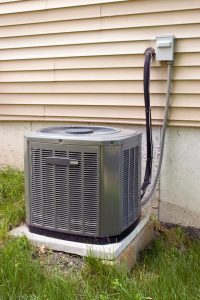 Summer is on its way, and with it will come higher energy bills as we run our air conditioners to stay cool and comfortable. To a certain extent, there's nothing to be done for it. Running you air conditioner more often in hot weather invariably leads to higher bills. But just because you're paying more doesn't mean you should pay more than you should.
By improving energy efficiency in your home, you can take a bite out of those high bills and pocket some savings in the process. Some of these are simply common-sense steps that you may already be practicing, such as setting the thermostat a few degrees higher than normal, and opening your home up in the cool over the evening instead of running the system. Other steps require the services of a professional, but can end up saving you a great deal of money in the long run. Here's a list of three of them for you to consider.
1.     Dehumidifiers
When the relative humidity in the air exceeds 50% or so, there's too much ambient moisture to let the sweat evaporate off of your skin. That leads to the air feeling hotter than it is, as well as that sweaty, gross feeling of constantly being sweaty. Air conditioners remove moisture from the air by default, but the process is very crude, and it puts a lot of unnecessary strain on your system
A whole-house dehumidifier addresses the problem in a much more effective way, allowing you to set humidity levels to taste and ensuring that you get rid of that muggy atmosphere in your home. As an added bonus, it will take a lot of strain off of your air conditioner and allow it to do its job much more effectively. Not only does that save you money on monthly bills, but it reduces the risk of a more serious breakdown to boot.
2.     Zone Control Systems
Zone control systems work best in larger homes, which may struggle to cool the air evenly and engage in a lot of wasted energy. The system is a series of shutters placed at strategic points in your duct, dividing the home into sections. Each section can be heated or cooled individually, allowing you to set different temperatures in different rooms to match the individual tastes of family members.
By extending that ability to its logical conclusion, you can turn off the cool air in unused parts of them home (such as bedrooms) during the day, while still running it in parts of the home that you are occupying: saving you money without costing you the ability to keep cool in the heat.
3.     Maintenance
Sometimes, it doesn't take any fancy additions to make your air conditioner more efficient, but simple a little bit of TLC from a trained professional. Maintenance sessions performed every spring let the technician clean dirty parts, tighten loose bolts and perform other mundane tasks that can help it function at its best throughout the summer. When applied regularly over time, it can even extend the life of your system.
For quality AC services of all varieties in Bridgeville, DE, call the pros at Atlantic Refrigeration & Air Conditioning, Inc. today!