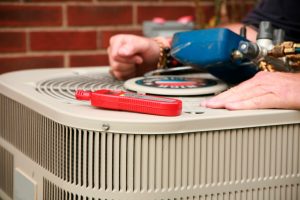 Earlier this summer, we discussed troubles you may encounter with a faulty compressor in your AC. The compressor is an essential part of any air conditioning system, and if it fails, it often means the entire AC must be replaced.
Today we're going to look at another important part of an air conditioner—one which is connected to the compressor—but which is a part you can expect to replace during the air conditioner's lifespan. It's the capacitor. Or the capacitors, since the AC has several of them, with two for each motor. There are capacitors for the compressor motor as well as the motors of the two large fans, the indoor blower fan and the outdoor exhaust fan. A failed capacitor can leave you with a non-working air conditioner. It takes professional air conditioning repair in Delaware and Maryland to put in new capacitors and get the AC back to work.
The Job of the Capacitors
Capacitors are electric components found in many devices. They serve as a type of temporary battery: they store an electrical charge and then send it to a motor, either to start the motor or to keep it running. The start capacitor handles the first job, the run capacitor handles the other.
Capacitors are temporary components designed to be easily replaced when they run down. For a powerful system like an air conditioner, some of the capacitors will probably fail years before the air conditioner itself must be replaced.
Capacitor Failure
Capacitors are a part of an AC that is susceptible to damage from the heat. Obviously, an air conditioner is designed to run during hot days, but extremely high temperatures will eventually take a toll on the capacitor's ability to hold an electric charge. Capacitors will also simply wear down because of age and no longer be able to send enough voltage to the motors.
When a capacitor starts to fail, you'll hear a clicking noise come from the AC. You can expect to hear clicking on occasion during start-up, but if the clicking sound is different from usual and occurs often, have technicians take a look at the system. If the compressor is hard-starting, it may be another warning of capacitor trouble.
A sign of failed capacitors is when the fans or the compressor either won't turn on or they will not stay running for long after they start. There are other possibilities, but you'll want this problem fixed as soon as possible.
Trust Professionals ONLY With Capacitor Replacement
Never attempt to replace a capacitor yourself! This is potentially dangerous, since you'll be working with a powerful electrical component. Putting in the wrong capacitor—and there are many different types—can also cause permanent damage to the AC's motors, such as burning out the compressor. Don't take these risks. Call on our professionals. They'll be able to determine if the capacitor is the source of the problem and then make an accurate and safe replacement.
"We Take Pride in Your Comfort" at Atlantic Refrigeration & Air Conditioning, Inc. Call us for 24/7 air conditioning service.