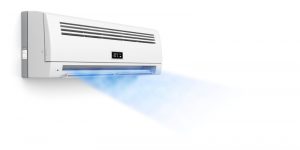 Among the different services for air conditioning installation in Delaware we offer our clients is installation of ductless mini split heat pumps, which provide both cooling and heating without the need to either put in ducts or use up window space. Ductless mini splits are fantastic ways for older homes to enjoy great heating and cooling while not having to make major alterations to find ways to stick in ductwork. They also work as excellent alternatives for new home construction—you can forget about squeezing ductwork into the blueprints.
However, you're reading this and thinking, "I live in a house with built-in ducts. Is there any point in having a ductless system installed? What's the benefit?"
It's true that if you have a central ducted AC and heater in your house that you are better off staying with this type when you have a replacement. But this doesn't entirely discount ductless systems. There are uses for ductless mini split heat pumps in homes with ducts. Below are a few of them.
The Room Addition
You want to enlarge your house with an extra room: a bedroom for a growing family, a home office for adjustments to your job, a game area or entertainment center, a study, a sunroom … there are many reasons to build a room addition. But how are you going to heat and cool it?
It isn't as simple as building out the ductwork to the new space, since the AC and heater were not sized for this, and the extra ductwork will cause a drop in air pressure throughout the HVAC system affecting comfort. An easier, cleaner route is to have a ductless mini split as part of the room addition. This gives the new space powerful comfort around the year without interfering in heating and cooling for the rest of the household.
The Room Conversion
Instead of adding on a room, you decide to convert a non-living space like the garage, attic, or basement into a living space. These are not zones connected to the HVAC system and they present special heating and cooling challenges. But just like with the room addition, you can have a ductless mini split heat pump installed for the new space and have it conditioned the way you like it.
Eliminating Hot and Cold Spots
Are there rooms in your house that never seem to be the right temperature? It's difficult to provide even cooling to a house, especially a large one. If you are looking to conquer those difficult-to-heat and cool areas, installing a ductless mini split might be the best approach. Our installers can help pinpoint where you need cooling/heating help and use the flexibility of the ductless system to fix the problem. You can have up to four indoor wall units for each outdoor unit, so you have plenty of options for solving uneven comfort in your house.
We can help you find the right solutions to providing ideal comfort for your house.
"We Take Pride in Your Comfort" at Atlantic Refrigeration & Air Conditioning, Inc. Schedule service with us to learn more about ductless mini split systems.