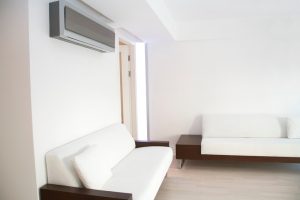 We are proud to work with the finest manufacturers of HVAC equipment. This is one of the ways to ensure we provide quality service to our customers. When it comes to ductless heating and cooling systems, we only install the best products from Mitsubishi, the leader in cutting-edge ductless mini split technology for homes.
If you've been thinking about installing a ductless air conditioning system for your house, we strongly recommend you speak to our professionals about a Mitsubishi system. But before you even reach that stage, you probably want to know if going with a ductless air conditioning system is even worth it. The answer, at least for many homes, is yes!
The Big Benefits of a Ductless AC
A ductless air conditioning system is like the standard split system found in most homes—an outdoor unit with a compressor and a refrigerant coil that exhausts heat, and an indoor unit with a refrigerant coil and blower fan to cool air and send it into the house. The difference is a ductless system uses multiple indoor units—small air handlers with fans and refrigerant coils—to send the cooled air straight into rooms, rather than one larger indoor unit sending cooled air into ducts. The benefits of this type of system include …
Cooling and heating: Although there are "cooling only" ductless systems, most are heat pumps, which means an investment in year-round comfort for a house with a single installation.
Zone control: The air handlers placed around the rooms of a house do not need to operate all at once. Air handlers can be shut off in rooms that don't require cooling, so the system only needs to expend energy in occupied places. Convectional air conditioners can only enjoy this type of zone control with an extensive retrofit or a full new installation, but ductless ACs have it as a built-in feature.
Energy savings: Ductless air conditioners cut down on energy use. Zone control is one reason for the lower cost of ductless comfort. But these systems also have better energy efficiency because they contain smaller motors. The lack of ducts eliminates heat gain through the duct walls that standard central ACs suffer from.
No duct annoyances: Along with heat gain, ductwork also collects dust and can develop air leaks that affect energy efficiency and harm cooling power. Going ductless means a homeowner won't have to arrange for duct cleaning and duct repair and other related services.
Easier for remodeling and new homes: One of the best reasons to schedule installation of a ductless AC is to help during building a new home or remodeling a home. There's no need to worry about installing ducts—plus there's extra space!
Great cooling for vintage homes: For older homes built before central air conditioning was common, a ductless AC is the best option to enjoy cooling all around the rooms without having to use ugly, inconvenient, and inefficient window air conditioners.
To find out more about installation of Mitsubishi ductless systems in Delaware and Maryland, call our experts. We are a Mitsubishi Diamond Contractor!
Schedule an appointment with Atlantic Refrigeration & Air Conditioning, Inc. Over 24 Years of Quality Service.