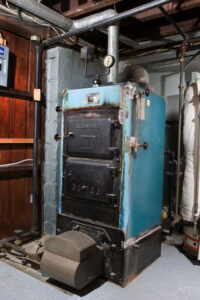 You don't want to have a dead furnace in a Maryland winter—that's something you'll know if you've spent even one cold day here. If you've had your current furnaces for over ten years, it is beginning to move into the territory where it could fail on you. Keeping up with routine maintenance each spring will make this less likely, but as the furnace continues to age, it will eventually reach a point where it won't go on any further and repairs will be too costly to keep it running.
Fortunately, furnaces rarely burn their last without giving out several warnings of their imminent demise. If you pay attention to the furnace's operation, you can catch some of these omens of a dying furnace and call for HVAC technicians in time. Our team of experts can tell if the furnace can be rescued with repairs or if a replacement is better. Below are five of the major signs to call us for assistance:
1. Loud operation
Furnaces make some noise when they run, but the sound of the burners and the fans isn't distracting and you're used to it as part of the sound of winter. But if your furnace starts to make more of a racket, one that has you occasionally looking up and thinking, "What was that?", then something is probably wrong. These noises can include rattling, clicking, booming, and grinding. If it sounds off, have it looked into.
2. Uneven heating
The furnace is running, hot air is flowing out of the room vents, and it would seem as if everything is okay. Except some rooms are not as warm as they usually are. If you can't find a reason for this in the rooms themselves (such as cracks around windows or other drafts), then the furnace is probably losing its heating capacity—and it will continue to get worse until the furnace runs itself down.
3. Short-cycling
This is when the furnace gets caught in a start-stop pattern that repeats multiple times over an hour. A furnace should run in heating cycles of at least 15 minutes before cycling down. Short-cycling can indicate several different problems, or possible multiple ones coming together if you have an older furnace.
4. High heating bills
A furnace, if maintained annually, should keep around 95% of its original energy efficiency up to the last two years of its service life. When you see that you are paying much more to run the furnace than you ever have before, it probably means the furnace is now in those final years. Repairs may only stall this: a technician can help determine if repairs are worthwhile.
5. You can't seem to get warm enough
Have you found yourself pushing your thermostat settings up higher and higher in order to warm up the house? You shouldn't need to do this—the same steady temperature you normally set the furnace to should be fine, unless the furnace is starting to fail.
At Atlantic Refrigeration & Air Conditioning, Inc., "We Take Pride in Your Comfort." Schedule service for your furnace—repair or replacement—with our team today.