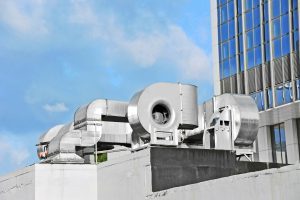 New construction projects generally don't begin until the spring: avoiding complications incurred by cold weather and snow in the cooler months. But you're likely planning your project now, and no matter what it is – residential, commercial or otherwise – it's going to need a reliable HVAC system. That means you want a proper HVAC contractor on your side: someone who knows how to install a new system, not just repair an existing one. And if you're planning and preparing for your operation now, you should have the right team on your side to help. Why? Here's a quick guide.
Anticipate Problems
Every building project is a complex endeavor, requiring multiple system to work in conjunction with each other. When trouble arises, it usually comes from somewhere you least expect. The best way to handle such problems is to anticipate them beforehand, and that means having an expert on your side during the planning stages. An HVAC contractor can not only help you select the right make and model of system for the project, but also help notice difficulties you might not, such as tight spots for ducts and potential power issues. With them on your team, you can ensure that most issues never even have a chance to crop up.
Plan for Flexibility
Most building plans have something very specific in mind, either as a residence, an office space, an industrial property, or a retail outlet. But those purposes may change as new occupants enter and old ones leave, and the HVAC system may be required to change with it. A good HVAC service can help anticipate such issues before you start work, ensuring that your HVAC can adjust to different needs and new conditions no matter who happens to occupy the space.
Plan for the Unexpected
When it comes to the construction of the building itself, you never know when problems are going to hit. No construction project can account for every contingency, and chances are you're going to be dealing with something entirely unexpected in the process of building the new structure. When that happens, you want a team that can work together to solve it, and inform each other of how the issue impacts their system. Not only does that save you time and worry – helping to keep the project on time and under budget – but it means that your clients will be even more impressed by the quality job you're doing.
An HVAC contractor should be a part of your team as early as possible, to establish a rapport with other team members and to ensure that you all can work together quickly to handle unexpected issues when the work is actually being done in the spring.
A Go-To Source for Servicing
On top of everything else, a good HVAC contractor will know the new system inside and out. That gives the new owners or residents an instant go-to service in the event of trouble: someone intimately familiar with the system and who can move quickly to make repairs.
Call Atlantic Refrigeration & Air Conditioning, Inc. for HVAC contractor services in Maryland!