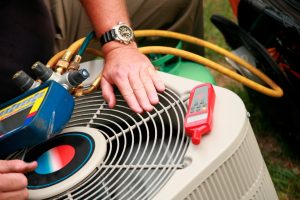 Spring has arrived and summer won't be too far behind. That means not only scorching temperatures, but high levels of humidity too. In that environment, you need a quality air conditioning system to keep your home cool and comfortable no matter how hot the weather gets. The last thing you need is a breakdown in the middle of the hottest day of the year, or monthly bills that are higher than they need to be.
Addressing those issues starts now, with the weather still relatively cool. Far better than repairing a problem with the system is preventing the breakdown to begin with. And the best way to do that is the schedule a maintenance session with a trained professional before the weather gets too hot.
A Tune-Up for Your Air Conditioner
A maintenance session most resembles a tune-up for your air conditioner. Repair sessions are designed to address a single specific problem. Maintenance sessions, on the other hand, are designed to let the technician check for any problems that might be affecting your system. In the event the problem is small, it can be corrected as part of the session. This includes things like dirty components, loose bolts and screws, and leaking refrigerant.
If the problem requires a more formal repair session, the technician can schedule one at your convenience. In most cases, it can take place immediately after the maintenance session, provided the technician has the right equipment on-hand (which is the case a good 90-95% of the time).
What Kind of Benefits Does That Provide?
We recommend maintenance sessions for your system once a year at least, and ideally twice. There are three specific advantages:
Quicker Repairs. It's always beneficial to catch repair issues earlier than later. In the first case, it means you can schedule those repairs at a time that is convenient to you, instead of having to rush around in the wake of a breakdown. In addition, when those repairs are needed, they're usually less expensive if you catch them early, since the damage hasn't had as much time to grow worse.
Lower Monthly Bills. By correcting those little problems like loose bolts, you can help the air conditioner perform more efficiently. That will help lower those monthly bills – a great deal in some cases – and it can also help reduce the risk of repairs. A component that rattles in its housing will become damaged more easily, for instance. By tightening those bolts and securing the component, the technician can save you the cost of replacing it later on down the line.
A Longer-Lasting System. If you schedule maintenance sessions regularly, it can help reduce wear and tear on your system. That can lower the frequency and cost of repair later in the system's life. Oftentimes, it can even extend the life of your system by months or even years in some cases.
For AC maintenance in Delaware this spring, call on the friendly professionals at Atlantic Refrigeration & Air Conditioning, Inc. to set up an appointment!