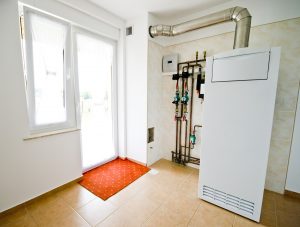 We're approaching the end of heating season and temperatures will be rising steadily throughout the next few months. That means you're going ot be using your heating system less and less, and air conditioners more and more until your heater hardly sees any use at all until next autumn.
That makes now the perfect time for a technician to give your heating system a look and check for any problems. You'd be surprised how many benefits a servicing session can provide.
What Is It?
A servicing session most closely resembles a tune-up on your car.  Unlike a repair session, which is designed to fix one particular problem, a servicing session gives the technician a chance to check for a wide variety of problems, big or small. For little jobs, like a wire that has come loose, the technician can fix it as part of the servicing session. For more extensive jobs, a formal repair session can be set up at the homeowner's convenience. (In 90% of the cases, it can even be schedules immediately after the repair session is done.)
Doing so now for your heating system means the job won't get lost beneath the more pressing concerns of summer. It also means that your heating system will be ready to go when the first cool day arrives next fall, and you won't have to rush around worrying about whether the heater needs a look.
Serious Benefits
The biggest benefits to maintaining your heating system involve more than just timely check-ups. You can gain some big benefits to maintaining your heating system regularly throughout its life. More specifically:
Lower bills. Taking care of little problems like loose wires and clogged burners helps the heater do its job more effectively. That in turn will lower your monthly bills when next winter arrives, as well as reducing the chances of suffering a breakdown during the winter.
Easier repairs. In the event that repairs are required, a servicing session lets you get an early jump on them. That means that the repairs will be less expensive than they might otherwise be, since the damage hasn't had as much time to spread. It also gives you the advantage of scheduling repairs at a time that's right for you, instead of having to rearrange your life to deal with it. And setting that up now gives you all summer to find the right time for the repairs.
One of the big benefits of a maintenance session is that it cuts down on wear and tear. That can pay big dividends later in the system's life: lowering the cost and frequency of repairs, and even extending the life of the system as a whole. When you consider the costs of replacing an older heating system with a new one, the money you save with a longer-lasting heater could add up to be quite a bit.
For heating maintenance sessions and other HVAC services in Georgetown, DE, call on the friendly professionals at Atlantic Refrigeration & Air Conditioning, Inc.