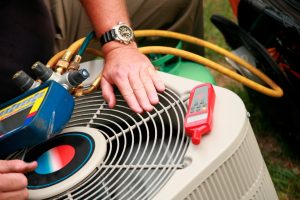 Summer is here, and if your air conditioner is on its last legs, now is the time to replace it with a new one. Doing so will allow you to take advantage of all the benefits a new system provides at the beginning of summer, instead of having to suffer through the hottest part of the year with a system that really isn't up to snuff. It also means not having to deal with an unexpected breakdown in the middle of the summer, when temperatures are hottest and you can ill afford to go without proper air conditioning for even a few hours.
But when the time comes to repair a faulty air conditioner, you may have to face an unpleasant choice. Does it merit repair? Or would that just be throwing good money after bad and replacement should be the order of the day? ultimately, only the homeowner can answer such a question. However, there are a few factors you should consider, which will make that decision much easier.
Has the Warranty Expired?
Until the warranty expires, you should usually go with repair over replacement. Warranties cover any original parts in the air conditioner, which can cut down on repair costs considerably since you'll normally just be paying for labor. Even after the warranty expires, the system may still be working well and repair costs should be easy to handle. (This is one of the reasons why we recommend yearly maintenance sessions on your system: they can help extend its life well beyond the warranty.) If the warranty has expired, however, and costs start to go up, that could be the one-two punch you need to schedule a replacement instead of just a repair.
How Expensive Is Too Expensive?
Again, the question of what is too expensive ultimately belongs to the homeowner. But usually, there comes a repair call which simply costs more than the air conditioner is worth, and a replacement makes a better option. Alternately, multiple repairs are coming too quickly — more than two repairs in a given twelve-month period is a good basic barometer — which makes further investment in the old system impractical at best.
In some cases, it might not even involve repairs, just higher monthly costs. As air conditioners age, it becomes harder and harder to prevent wear and tear, and while yearly maintenance can help curtail that trend, eventually the system is going to lose efficiency. The longer that goes on, the higher your monthly costs will get, until eventually you're ready to have it replaced. In some cases, it might also be a case of wanting to invest in an air conditioner with more features than the original one, and the investment in the new system is intended to take advantage of those new features sooner rather than later.
If your Seaford, DE air conditioner is having trouble and the warranty has expired, call Atlantic Refrigeration & Air Conditioning, Inc. We can help you determine whether you need repair or replacement, and spell out all of your options for you!