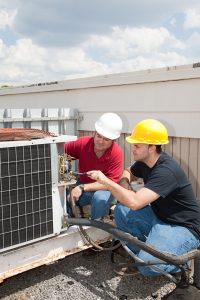 A good HVAC system starts with a good contracting service: a team that knows how to work with your group to install the best heating and air conditioning system that the property deserves. That means a team that knows what it's doing and has the skills you need to provide an outstanding HVAC installation. Naturally, every project is different, and you likely have a very specific set of criteria you need in an HVAC contractor. But there are still a few general guidelines you should look for with any contracting project. We've spelled out a few of them below:
Specific Contract Work
Most HVAC technicians can handle system repairs and maintenance, as well as replacing an existing system in a home or business. But contractor work involves an entirely different set of skills, and means working in conjunction with an entire team as well as dealing with problems that crop up in the middle of construction. The right company will have plenty of experience on that front: with an established reputation you can count on and the personnel who can work with your entire team. It means understanding the parameters of the particular project and an honest, accurate assessment of any challenges that may arise in the planning stages, so as to cut down on time wasted once the building itself starts going up.  A team that knows what it's doing will invariably perform better and more effectively than one trying to transpose skills from repair and replacement services.
Affiliations
There are few testaments to a company's quality more reliable than affiliations. This starts with satisfied customers on places like Yelp and the company's own site. But it goes deeper than that. Start with the Better Business Bureau, whose credentials are impeccable and which provides a reliable measure of the kind of business you'd like to work with. You should also look for recommendations from groups like Angie's List and the manufacturers of the various systems that the company installs: signaling their faith in that company to do right by their products. Local chambers of commerce make good indicators as well. Perhaps the most important affiliation is NATE — North American Technician Excellence — an objective third party dedicated to providing fair evaluation of technician skills. The more such affiliations the company can produce, the more reliable their reputation.
Emergency Services
Things happen during construction. Problems arise that you can't possibly anticipate, but which need to be taken care of quickly in order to keep the project on schedule. Sometimes, that means working off-hours or moving fast on a weekend to do the job. A company that doesn't offer emergency services may be willing to do that, but they're likely not set up to move with speed and aren't accustomed to performing quality work while the clock is ticking. A company that proudly offers emergency services, on the other hand, can handle the unexpected quite readily, and will move the moment you need them to in order to get the job done.
For HVAC contract work throughout Maryland, relay on the pros at Atlantic Refrigeration and Air Conditioning, Inc.