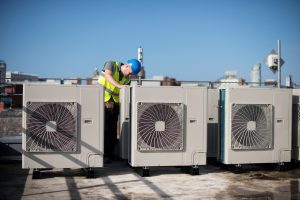 With the coming of fall comes cooler weather and a chance to give your air conditioner a break after a long, hot summer. This is the ideal time to have a trained technician give it a look and address any issues that may have cropped up over the summer. That goes doubly true for commercial air conditioners, which often have a much heavier workload than residential systems and require a service that specializes in commercial systems to treat. If you own a business or manage an office space, you should contact a commercial HVAC service to set up a maintenance session, or repairs if you suspect your system needs it.
The next question becomes which service to call. Commercial systems are much different than residential systems and require the attention of a company that knows what they're doing. More specifically, look for the following.
Emergency Services
A reliable commercial HVAC company will offer emergency services 24 hours a day, 7 days a week. This is more important than simply being there in the event of the unexpected. It means the service will act swiftly no matter what the situation is. With a business, any disruption in the HVAC system could end up costing a great deal. An unpleasant environment will send customers away in droves and force employees to work in uncomfortable conditions, to say nothing of the damage to stored products and key components like computer systems. In addition, eme
In addition, an emergency service is a service able to work after hours, which means they can conduct any needed repairs on your air conditioning system without tripping over your workers and disrupting your regular operations.
Treating a Variety of Systems
Commercial HVAC systems vary depending upon the needs of the space and the conditions of the unit itself. As with residences, no office or business space is quite like any other. A good commercial service will offer repairs and replacement for more than just one type of AC. They'll also evaluate the problem against the specific needs of the company, and they won't treat a small system in a specialty boutique they way they would a multi-story office building or a business that includes a great deal of warehouse space. The right commercial HVAC services will assess your space before looking at the system itself and make sure any maintenance or repair operations.
That goes beyond repairs and replacement as well. Business tenants change from time to time and new companies moving into the same space as an old one might have wildly different needs for their air conditioning system. The right service will be able to help by upgrading or adjusting the existing HVAC system to meet the needs of a new company: using the existing system when possible and recommending adjustments or upgrades that won't cost you an arm and a leg.
For quality commercial HVAC service throughout Maryland, you can rely on the friendly professionals at Atlantic Refrigeration & Air Conditioning, Inc. Contact us today to make an appointment!