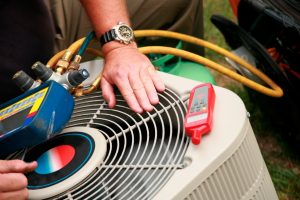 We've come to the end of air conditioning season, as temperatures fall and heating system take over the responsibility of keeping your home comfortable. That makes now an excellent time to evaluate the state of an older air conditioner, especially if it needs repairs or is suffering from similar problems. With air conditioning no longer needed for several months, you can decide if your existing system can continue with a repair job, or if you need to talk about replacement.
In the end, that's solely a question for the individual homeowner. Every HVACC system is different and the unique needs of your home can have a great effect on your decision to repair or replace a faulty air conditioning system. There are, however, several ways to help make that decision: requiring an honest assessment of the costs involved and whether the existing system is worth it. That boils down to two general issues:
1.      The State of the Warranty
Every air conditioner comes with a warranty, usually lasting between 8 and 12 years (though specifics vary by make and model). If the warranty hasn't expired, then it covers the costs of any original components that may be malfunctioning. That means that almost always should repair your system rather than replace it if the warranty is in effect, since you'll only be paying for labor and incidental components like bolts and filters.
Even if the warranty isn't in effect, repairs may still be preferable to replacement, provided the cost of repairs isn't too high. Only when the warranty has expired and the costs rise higher than you're prepared to pay should replacement be a serious consideration. (You can mitigate this with regular maintenance and servicing sessions throughout the life of your system.)
2.     The Costs
The costs involved in keeping an older air conditioner running are paramount for carefully considering. Once the warranty has expired, you need to determine whether sinking more money into the existing system is worth it, or whether you would be better served investing in a new one. Costs tend to involve one of two things:
Repairs, which usually means a single repair call that costs more than you feel the system is worth. In such cases, a decision to replace instead of repair is pretty easy. But you might also choose to replace the system if the frequency of repairs is growing too high – say more than two in a single twelve-month period – even if each individual repair doesn't cost very much. Your repair technician can make recommendations based on the repair in question and the state of the air conditioner.
Monthly Costs, which invariably rise as the system grows older and parts wear down. Eventually, the costs of running the system every month are just too high to continue. Replacing the system means you'll enjoy improved efficiency and likely lowers costs as well, which can be a big relief for your monthly budget.
For quality air conditioning repairs and replacement services in Maryland, call Atlantic Refrigeration & Air Conditioning, Inc.