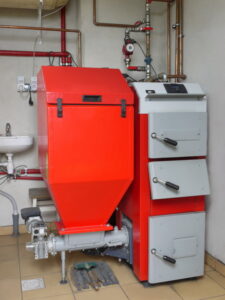 Boiler heating systems aren't common in large parts of the country. But you'll find many of them here in Maryland and Delaware, often in homes that don't have the ductwork for a forced-air heater like a furnace. This isn't a disadvantage, however! Boilers are excellent options for home heating, and if you're considering one for your home, we encourage you to check out some of the ways a boiler can help you save money on heating each winter.
We're local professionals who offer service for boilers, from boiler installation to boiler repair in Maryland. If you are considering a boiler installation, we can provide you with the expert service you need. We'll help you decide if a boiler is the ideal heating installation for your house. (We also work with other central heating options like furnaces, heat pumps, and ductless mini splits.)
How Boilers Save Money
You probably already know the basics of how a boiler works: it heats water in a tank using natural gas burners (although there are also electric boilers) then circulate the water to terminal points such as radiators, baseboard heaters, and in-floor heating elements. There are various ways that this heating method can reduce costs in your home:
Efficiency: Water is a more effective heat-transfer medium than air. The heated water moves more heat into a room than heated air from a furnace or heat pump does, so the boiler needs to consume less energy.
Speed: A boiler won't need to run for as long a period to fully warm up a room as a forced-air heater. A furnace, for example, blows heated air from vents, which then rises to the top of the room, taking longer to distribute the heat throughout the space. A boiler radiates heat into a room rather than blowing it in, and then creates a faster and more even spread of heat.
Fewer repairs: Compared to a furnace and a heat pump, a boiler has a small number of mechanical moving parts. This means the boiler suffers from less wear that can lead to the need for repairs. You'll save money over a boiler's lifespan on the cost to fix it.
Longer system life: The average lifespan of a boiler is five years longer than a furnace—and some can go even longer. You'll have more time to enjoy the efficiency benefits of your boiler and can put off paying for a replacement compared to a furnace or heat pump.
No duct-based costs: Ductwork comes with some additional costs, such as regular cleaning and repairs. Ducts also contribute to heat loss through their walls, which adds further costs to using a forced-air heating system. Boilers don't have any ducts, so they don't have these problems.
An important reminder: a boiler won't provide all of these benefits if it's not given routine professional maintenance. If you have a boiler installed, make sure you join our Maintenance Agreement Club so your boiler receives the best attention and gives back the best performance.
At Atlantic Refrigeration & Air Conditioning, Inc. "We Take Pride in Your Comfort!" Schedule boiler service with us today.