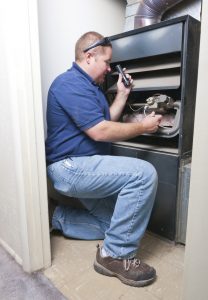 The East Coast is enduring one of the coldest winters on record and homeowners need their heating systems to function as needed on a daily basis. To do otherwise risks more than you comfort: it can present a health hazard too. Ideally, your system will get through the winter without a sudden heating problem, but if trouble does show up, you need to know how best to respond to it.
What Causes a Sudden Heating Problem?
A heating system can shut down or refuse to turn on for a number of reasons. That's why you should never attempt to formally diagnose a heating problem on your own. (Though you can and should perform some troubleshooting.) The most common causes of a sudden heater shutdown are either a loss of electricity or some manner of potential health hazard such as leaking gas. Automatic shutdowns also occur if individual components are in danger of overheating (such as when hot air remains stuck in the furnace instead of blowing out through your ducts). And sometimes the system can shut down because a vital component has broken down and is simply no longer capable of functioning.
Sudden shutdowns aren't a completely bad thing. In many cases, they prevent further damage to the system and in the case of problems such as gas leaks, they form an active safety feature. The bad news is that the heating system still won't work until you get it addressed, and if the weather is cold, that means you still need to move fast.
Troubleshoot First
When your heater shuts down unexpectedly, it pays to do a little basic troubleshooting first. Start by checking the thermostat to see if it's been programmed in an unexpected way, or even had the heat turned off. It happens more often than you might think, and it can save you a great deal of time and effort if that's the case in your situation.
Assuming the problem isn't with the thermostat, the next step is to check the breaker box to make sure the breaker switch hasn't been turned. That can often happen in the event of an unexpected power surge, though it can also sometimes happen with an electrical problem in the heater itself. If power is switched off to the heater, reset the breakers and let the system run. If it continues running smoothly, you've solved the problem. If it flips the breaker again or still refuses to turn on, it's time to call in a professional.
(Note that you should always turn the system's settings to "off" even if it isn't running.)
Look for an Emergency Service
Ideally, every breakdown should take place during normal office hours when a technician can treat it promptly. Sometimes, it happens in the middle of the night or over the weekend, however. That's why you should always contact a service that offers 24/7 emergency repairs no matter what the time of day or week.
For heating repair services throughout Delaware, call on Atlantic Refrigeration & Air Conditioning, Inc. today