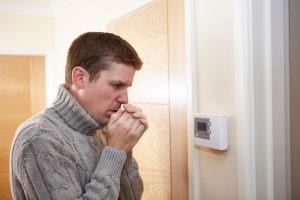 It begins with a sudden spike in your heating bill. Or maybe you've noticed some strange behavior, such as odd noises or strange operation. These are just a few of the ways that your furnace might begin showing a need for repairs. But, the sooner you spot these issues, the sooner you can get them fixed—before they turn into a full-on emergency.
We'll keep you on top of it with a list of some common heating repair problems. If you notice any of them, don't hesitate to call a heating repair expert in Delaware, DE to get a professional opinion. The sooner you have these problems taken care of, the better.
Short-Cycling
We'll start with short-cycling because it's potentially one of the worst.
Many times, a short-cycling furnace is an indication that the furnace is too big for the home it was installed in. The overpowered unit will heat the home too quickly, thus giving a false-reading to the thermostat. That will cause it to end the heating cycle, only to start another cycle (and this will happen over and over again). Not only is this hard on your system, but it will also prevent the home from actually heating up!
It would be unusual to have short-cycling happen suddenly to a furnace that has already been in your home for some time. In that case, the issue could be happening due to a clogged air filter. Luckily, all you have to do is replace the air filter.
Operational Problems
The furnace isn't starting? It could be due to problems with the pilot light or igniter. Older systems will still use a pilot light, and it's possible that it needs cleaning or replacement. Modern systems use an igniter that turns red hot—and it's not unlikely that this piece can break after several years of use.
If the furnace starts but doesn't stay on, you might be having an issue with the limit switch. The limit switch is not the problem, but rather, it could be that your furnace is overheating and causing the switch to trigger. A clogged air filter might be blocking airflow and causing the unit to become too hot.
Cold Spots in Rooms
Uneven heating throughout the home isn't uncommon with furnaces, but it's certainly not something you need to put up with. Getting to the bottom of this issue can take the trained eye of a professional, but a few potential causes could include:
Clogged air filter blocking airflow.
Leaks in the ductwork, thus causing heated air to escape.
Poor insulation in the affected rooms.
Odd Noises
Grinding, booming, squealing, thumping… If your furnace is making any noises that it never made before, then you're most likely looking at a repair problem. Since strange noises can often be an indicator of significant wear-and-tear, we recommend immediately turning off the system and calling in for some assistance.